Flight Lessons…Crisp b&w and photoediting in PS!
Hello everyone! After a brief and unexpected hiatus, we're back with Flight Lessons! As promised this week we'll be doing crisp black and whites as well as additional photoediting in PS. We'll be going over photoediting in more detail in later posts, this is just to get your feet wet! Here we go. :oD
So the first thing that I do is edit my photo, doing whatever normal edits I always do. I personally ALWAYS reduce the noise and I ALWAYS use the unsharp mask. (tip: if you're going to have to resize your photo, do the resizing FIRST before doing any edits. When you resize, the photo loses some of it's quality and you don't want your hard work to go to waste. ;o) )
Here's the original photo that we're working with (Ana's gorgeous girl!)
Reduce noise: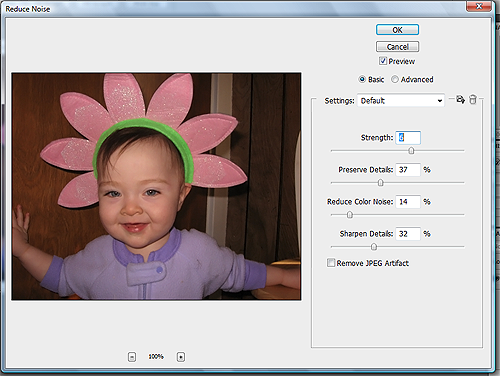 Unsharp Mask: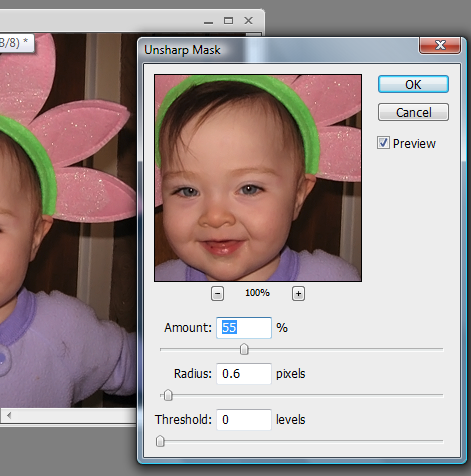 Now I'll change the photo to black and white. There are lots of ways of doing this, but I'm old school so I like to reduce the saturation. ;o) My saturation tool might look different from yours since I'm using CS4, but you just want to turn the saturation down to -100.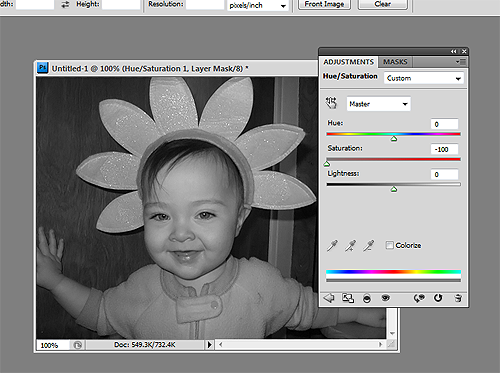 Now that we have our photo in black and white, we want to adjust the levels. You can also adjust curves if you want to, but I tend to only adjust the curves for color photos and I adjust the levels for black and whites. I'm not completely sure why I do it this way, but I like the effects better if I use the levels adjustment for black and whites, because I can control the amounts of grey, black, and white that are in the photo. Layers->new adjustment layer->levels. The arrow is pointing to the part of the levels adjustment that you need to use, I can't remember now if other versions have the lower part of my levels screen but if you do just ignore it. :o)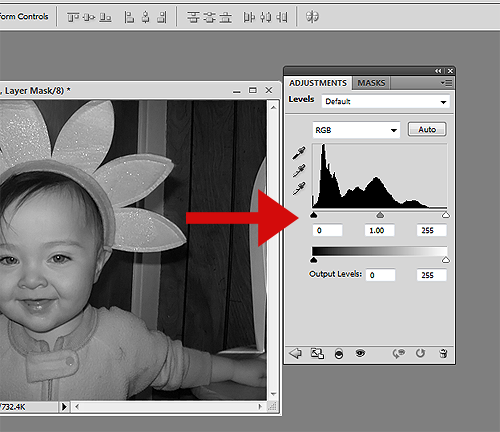 So now we need to adjust the levels. The little button on the left (the black one) controls how much black in in your photo. The middle one controls the mid-tones, and the one on the right controls the whites. Every photo is different of course, but the goal is to decrease the greys as much as you can, and increase the amount of white and black, because that's what will give you a a crisp looking photo. Here are the settings that I used for this photo: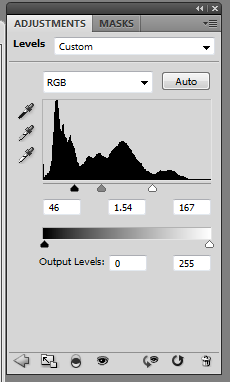 And here's what the photo looks like now: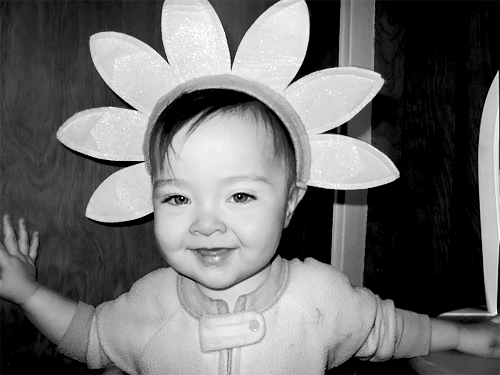 Now is when I edit they eyes, at the very end. I use the lasso to select the eyes (I tend to only select the colored part, some people like to select the whole eye, it's really just a matter of preference) and make sure that you have your lasso tool with a feather of about 3 pixels so that you don't get a funky line around your selection. Then I use the unsharp mask, then deselect, and then I go over them a tad with the dodge tool. Here's my final product, and the original right after: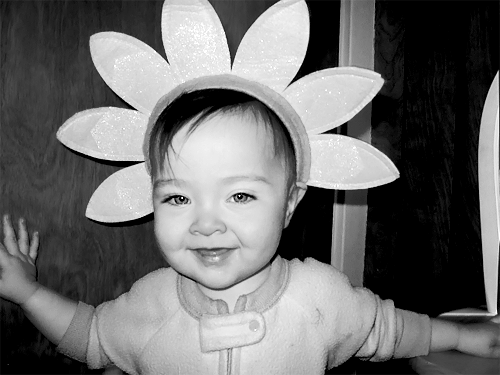 And that's it! As I said before, we'll be doing some more detailed photoediting and going over WHY we do certain edits in later posts, so if this was a little overwhelming, just stay tuned and we'll walk you through it! :o) Thanks for joining me this week, see you all next Tuesday for another addition of Flight Lessons!
Signing off for now,
Heather (heatherbird)
One Response to Flight Lessons…Crisp b&w and photoediting in PS!