Art Journaling 101: Spotlight on Persnickety Chick
This month we are going to delve into the Art Journal Caravan 2011′s Navigation Guide! Remember that? All you Caravaner's have the Guide in your Kit you received when you signed up. Did you read it? Have you read it lately?
If you remember, a handful of art journal artists were featured. This month, we are going to look at those artists again, and in particular one of their layouts, and Studio Tangie's Creative Team will share their art journal pages as inspired in some way by that artist.
Today, we are pleased to feature Persnickety Chick, Amber!
You will find her interview on Page 23-27 of the Navigation Guide. Amber talks about art journaling as therapy for her, that her pages do not have to be perfect. "They are crazy, and quirky, and full of what I hope is a lot of personality." She finds is empowering to share her pages online. She tells the story more through the use of symbolism, or she might blend the words into the background.
I've asked the Studio Tangie Creative Team to check out Amber's page "Once Upon a Midnight" (pictured below) and to create a page inspired by the title. Thank you Amber for your inspiration!!!
Studio Tangie Creative Team Pages Inspired by the Title "Once Upon a Midnight"
Tangie
This is about how sometimes I feel like spirits "haunt me" at night–sadly my imagination is not all good and runs a little wild in the dark!!!!
Once Upon the Midnight Hour by Tangie Baxter
I love Tangie's page starting off with "Once Upon the Midnight Hour". It's a striking page. Also spooky, great for this time of year! I love how the house floats on the planet. Thanks so much Tangie!!!!!
Carolyn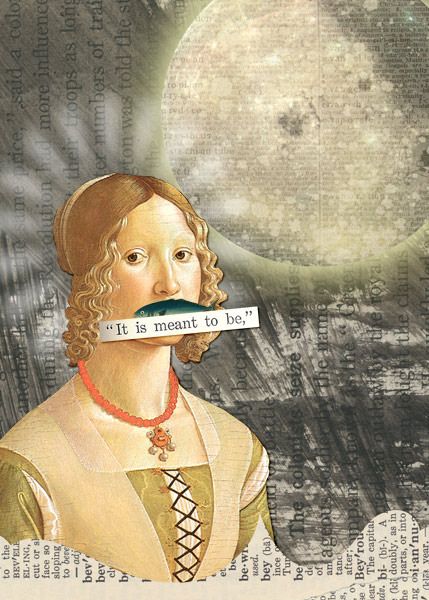 Meant to Be by Carolyn (links to gallery)
This is an awesome page by Carolyn that invokes the title and gives a little nod to Amber's style too. I love all the newsprint, and the classical art girl. The message is so simple. Fabulous!
Heather (sparklyduck)
This is silly, but when I read and saw the "Once upon a midnight" prompt, I thought, "If I had time, I'd make a page about how I've always loved night time, and how healing it is for me, and I'd use lots of purples and blues–"
*record needle screech*
Then my brain said, "Hey, Spartacus, you already did that exact thing, 'member?"
So three cheers for plagiarizing my own idea.
AJC #34 by sparklyduck (links to gallery)
This is totally perfect for the "Once Upon a Midnight" theme. Look at the shadows! Wow! This is so amazing girl!!! And the quote is soooo beautiful!
Julie Ann
Once Upon a Midnight by Julie Ann Shahin
You all know I love my borders so I started off with the background paper (by Tangie). Then I added the art doll, with the wings inspired by Amber. I added the moon, and had to add the spider too because of this spooky time of year, LOL! Then I just added all the rest of the borders. The quote is perfect for me because I am so a night-owl, sometimes staying up until 3 a.m. Oh, and my dog was bugging me the whole time I was making this page so I added a dog too, although my dog is a bichon!
Thank you very much to the Creative Team for your wonderful efforts!!!
Julie Ann Shahin is a New York-based art journaler, scrapbooker, mixed media craftster who specializes in hybrid and altered art techniques. She will be blogging regularly for tangiebaxter.com on {Wednesdays – new day} and Saturdays. You may contact Julie Ann directly at julieann dot shahin at gmail dot com
You might also enjoy: Art Journaling 101 Archives