My Vision for 2012: Knowledge – Prompt #4
I get most of my information about the world
from _________________
(the news, T.V. shows, Google, Facebook, Twitter, email, message boards, etc.?)
Journal about one of these and why it is most convenient for you, and how you access it (T.V., iphone, Ipad, computer, laptop, etc.)
See below for inspiration from the Studio Tangie Design Team!
Create your page based on this prompt, upload it to your favorite gallery such as the Scrapbookgraphics.com gallery, or your blog, or photobucket.com, and then link it to this blog post so we can give you lots of praise!
About Knowledge – Prompt #4
Here's an interesting infographic about The Tablet Revolution and the Future of News, Highlights from a Survey Report by Pew Research Center's Project for Excellence in Journalism in Collaboration with the Economist Group, published at http://edudemic.com/2011/10/tablets-future/. They report high levels of satisfaction with the tablet:
Platform preferred for checking headlines
43% – Tablet
23% – Desktop/laptop
14% – Smartphone
Platform preferred for reading longer articles
55% – Tablet
22% – Print
20% – Desktop/laptop
Must Read
Inspiration for My Vision for 2012: Knowledge – Prompt #4
Christina aka caubin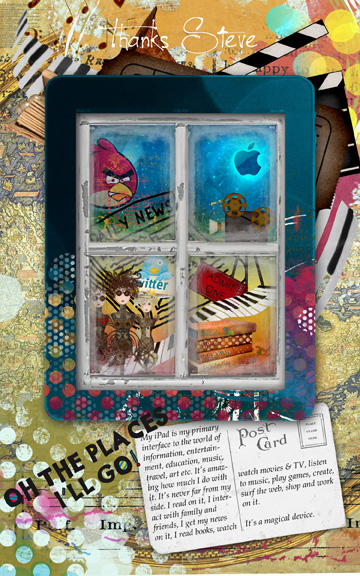 Journaling: My iPad is my primary interface in the world of information, entertainment, education, music, travel, art, etc. It's amazing how much I do with it. It's never far from my side. I read on it, I interact with family and friends, I get my news on it, I read books, watch movies & TV, listen to music, play games, create, surf the web, shop and work on it. It's a magical device.
Credits: From Tangie – Up Up and Away, Thoughts of Thee, Fan for Life, Greatest Curiosity, Je t'Adore, AJC12 Starter Kit, Splatter Graffiti Comfort Food; Other: Birgit Kerr- December Morning
Julie Ann
Journaling: In 2012, I am not a big newshound. We do not get any newspapers or magazines right now. I am happy to ignore the nightly news for the most part. We do set the DVR for The Daily Show with Jon Stewart, The colbert Report, and Piers Morgan. My husband also watches The Late Show with David Letterman however this year I have grown bored with David Letterman. We also watch Saturday Night Live together,while I DVR for myself Oprah's Next Chapter and her show Super Soul Sunday. My husband likes Real Time with Bill Maher. As for our online resources, my husband checks yahoo news headlines, and will yell out certain headlines now and then. We both have Facebook accounts, however my husband hardly uses his, and I have cut way back on my usage of Facebook. I also have my Twitter account, and I know many people get their news via Twitter, however, I know I would not ever get anything done if I checked my Twitter several times a day. I post to my Twitter several times a week, and then quickly leave Twitter before I get sucked in. I do get a lot of information from Pinterest, pertaining to D.I.Y., fashion, scrapbooking, trends, etc. Any other information comes via email, and face conversations with friends and family. I have not yet succumbed to a smart phone, iPod, iPad, or Kindle Fire. Yet! The tempation to get an iPad is getting ever greater.
Credits: BY TANGIE BAXTER – AJC12 Parcel 8, Glamorazzi, Collage Fodder Stars, Splatter Graffiti Imagination, Hero of the Night Collab with Molly DeCrow, Feline Dreaming, Merry Autumn, Collage Fodder Silhouettes, Studio Remnants Portfolio; Fonts: Art Journaling Font Dormouse, Art Journaling Font TweedleDeeALT; Other: ScrapSimple Paper News by STI at Scrapgirls
Julie Ann Shahin is a New York-based art journaler, scrapbooker, mixed media craftster who specializes in hybrid and altered art techniques. She will be blogging regularly for tangiebaxter.com on Wednesdays and Saturdays. You may contact Julie Ann directly at julieann dot shahin at gmail dot com
You might also enjoy:
My Vision for 2012 Prompts Archive