My Vision for 2012: Abundance Prompt #2
Prompt : "When you are grateful, fear disappears and abundance appears." ~Anthony Robbins
Do you look at life with fear or with gratitude?
Create an art journal page answering this question, include a paragraph of journaling.
Link up your page here (copy and paste the url) in the comments section of this post. Join our fun, lots of members are jumping in!
Honestly, as someone who makes an effort to journal a gratitude list a handful of times per month, I thought I knew which way I was going to answer this question. Then I got truthful with myself.
Where do I have fear lingering in my life?
I've been said to be quite hard on myself, so perhaps I ought to just give myself a break and say, "I'm all good," I'm grateful for everything, and be done. Yet that seems too easy.
So I'll share that the place, or one of the places, that I still have fear lingering in my life, is in social situations…I have quite the social anxiety. You might never know it from interacting with me online, and sometimes I've disappointed people who knew me first online, and then in person because my personality doesn't come through in real life the way I let it come through in face-to-face social situations.
I'm an introvert.
An observer. I love being alone. As someone who enjoys her own company, in silence, it didn't occur to me in the company of others that my silence might make them uncomfortable. So all my life, I've been told that I'm too quiet, too shy, or as once someone got to know me, "You're not a snob like I thought!" which was always most surprising that  they thought my silence was snobbery! That was just their own insecurities mixed with my introversion.
Eventually hearing those things put pressure on me to be something I was not in public. Thus social anxiety.
Today I'd like to think that I've outgrown social anxiety, yet all I have done is try to ignore it. The result is that it is still written all over my face despite thinking that I'm in control. A vicious circle. I ought to know better because I know the very definition of anxiety the result of  "avoiding a feeling."
What does this have to do with abundance?
Wouldn't it be lovely if I had an abundance of confidence in face-to-face social situations? I would love to be the most charismatic person in the room, instead of the frustrated one.
My intention would be that I would be full of charisma and confidence and social grace so that I could help other people feel good about themselves as well. In my page below, I've written my gratitude list…as suggested by the wise Tony Robbins!
MUST READ:
Inspiration for My Vision for 2012: Abundance Prompt #1
Julie Ann
Credits: Most by TANGIE BAXTER
Phoenix: AJC Parcel 21
Word Art and Paper: AJC11 Parcel 41
Eye: ARTist Sheet 959
Creature: AJ Creatures Emporium Crowabout Studio B
Heather aka sparklyduck75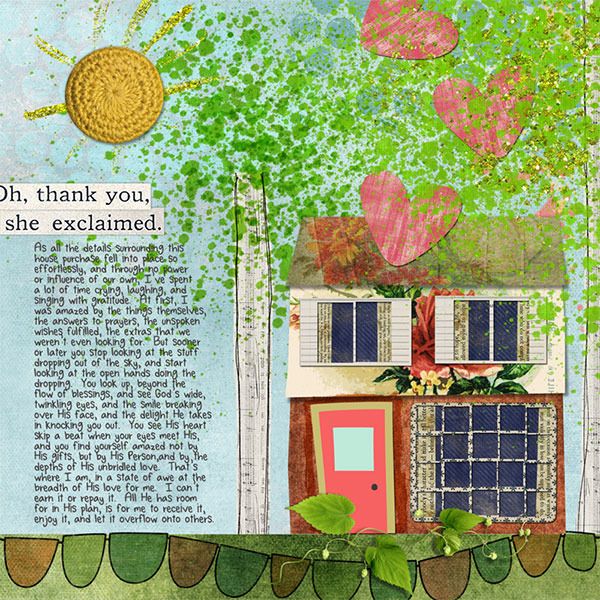 As all the details surrounding this house purchase fell into place so effortlessly, and through no power or influence of our own, I've spent a lot of time crying, laughing, and singing with gratitude. At first, I was amazed by the things themselves, the answers to prayers, the unspoken wishes fulfilled, the extras that we weren't even looking for. But sooner or later, you stop looking at the stuff dropping out of the sky, and start looking at the open hands doing the dropping. You look up, beyond the flow of blessings, and see God's wide, twinkling eyes, and the smile breaking over His face, and the delight He takes in knocking you out. You see His heart skip a beat when your eyes meet His, and you find yourself amazed not by His gifts, but by His Person, and by the depths of His unbridled love. That's where I am, in a state of awe at the breadth of His love for me. I can't earn it or repay it. All He has room for in His plan, is for me to receive it, enjoy it, and let it overflow onto others.
CREDITS, all by Tangie Baxter:
Verve collection; Dost Thou Love Life?; Mr. Darcy; Broken Dollhouse kits.
Font: Oysters, also by Tangie.
Now it's Your Turn! Let's see your pages about fear and gratitude.
Link up your page here (copy and paste the url) in the comments section of this post. Join our fun, lots of members are jumping in!
Julie Ann Shahin is a New York-based art journaler, scrapbooker, mixed media craftster who specializes in hybrid and altered art techniques. She will be blogging regularly for tangiebaxter.com on Wednesdays and Saturdays. You may contact Julie Ann directly at julieann dot shahin at gmail dot com
If you liked this post, you'll also love:
4 Responses to My Vision for 2012: Abundance Prompt #2