Art Journaling 102: Technique Focus – DIY Cluster Embellishments!
First Order of Business…
Oops! I forgot to post Tangie's page last week for the prompt on Which movie star no longer living would you cast to star in a movie about your own life? Please forgive me Tangie!!!! (I think she was in Colorado and didn't even notice. LOL)
Here is her amazing page that has been finished since September!
TANGIE – "I Don't Know What to Write Myth-Buster Prompt #14 (link to prompt)
Credits: Virtuosity, AJC12 Parcel 37 & 13, Gypsy Rhapsody, Gesso Messy 1, 6, 7 & 9, Love "The Doctor", Dream Spilling all from Studio Tangie and Ransom Alpha Color by Studio SherrieJD
Ok, now onto new business!!! We've got a brand-new technique focus for you this week:
Technique Focus – Make Your Own Cluster Embellishments from Studio Tangie elements!
I hope everyone had a wonderful holiday if you celebrated Thanksgiving in the U.S., and also survived Black Friday shopping, if you were brave enough. I haven't been out shopping in several years, I have decided to do all my shopping online, if not making things by hand. I am too old to have patience for the crowds at the stores nowadays!
If you'd like to find some zen after the shopping craziness, try your hand at our Technique Focus this week – use Studio Tangie elements to create Cluster Embellishments. This awesome idea came from our  own ingenius Creative Team Member Leslie aka lharvey81.
The idea is to take elements from a kit, or different kits, and create clusters that you'll have ready to use when the mood strikes you to make a page! The page will come together all that much FASTER!
Let's look at examples of clusters put together by the Creative Team, and how they used them on a page.
Inspiration by the Studio Tangie Creative Team for Technique Focus
Lita's Clusters

Lita's Art Journal Page Using Her DIY Clusters
CREDITS: All by Tangie Baxter except font
Autumns Poetry;
AJC 2012 Parcel 16 Fusion Collage;
Gesso Messy V5 Borders;
Gesso Messy V8 Doilies;
Fonts: SweetlyBroken
Rain's Clusters
Rain's Art Journal Page #1 Using DIY Cluster Set 1
Hope
To see the road before me
To always keep hope alive
Despite obstacles that block my way
To follow the Golden path
of beauty
of heart
Despite discouragement and frustration
to always keep hope alive
CREDITS: All Tangie Baxter: Bestiary of Beasties
Rain's Art Journal Page #2 Using DIY Cluster Set 2
Fearless
CREDIT: All Tangie Baxter: Bestiary of Beasties
Rain's Art Journal Page #3 Using DIY Cluster Set #3
La Luna, Holder of Watery Wisdom
Please come to my dreaming body,
Fill me with fluidity and power of the tides, the soft light
Pouring the depth of understanding into my soul, allowing my being
to take winged flight.
La Luna, Luminescent grace,
traversing my inner galaxy, whisper of love into my ear,
the music of the unknown.
CREDIT: All Tangie Baxter: Bestiary of Beasties.
Heather's Cluster Frames
CREDITS: Tangie's Thinking of Thee; Wishing and Waiting; Up Up and Away; and Splatter Graffiti: Bloom kits.
Heather's Art Journal Page Using DIY Cluster Frame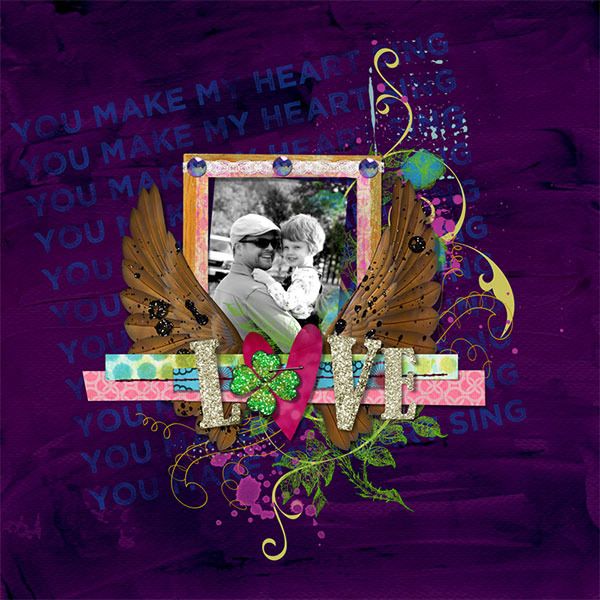 CREDIT: The paper here is also from Thinking of hee, with silver alpha from Tangie's Junque Journal collab with SherrieJD.
Julie Ann's Clusters
Julie Ann's Art Journal Page Using DIY ClustersCredit: All by Studio Tangie
Paper, borders, bird, doodle, glitter, key, metal flower, paint/splatters, flower, word art, fleur de lis, graffiti, tape: Thankful Heart Collab with SherrieJD
Graffiti, leaf shape, word art: Thankful News (Thankful Titles and Graffiti)
Fonts: TangieAJFMaryAnn, TangieAJFoldcrab, TangieAJFfivesevenandtwo, TangieAJFmockturtle
Now it's your turn! Have fun making your own DIY Cluster Embellishments with Studio Tangie elements.
Link up your page here (copy and paste the url) in the comments section of this post. Join our fun, lots of members are jumping in!
Julie Ann Shahin is a New York-based art journaler, scrapbooker, mixed media craftster who specializes in hybrid and altered art techniques. She will be blogging regularly for tangiebaxter.com on Saturdays. You may contact Julie Ann directly at julieann dot shahin at gmail dot com
If you liked this post, you'll also love: