Art Journaling 102: Holiday Hybrid Feature with a Christmas Ornament Tutorial!
Happy Saturday friends!
Today we have a couple Holiday Hybrid ideas for you, with an awesome Tutorial for Christmas Ornaments by Deb aka pennyshilling you'll want to check out!
Let's make this Hybrid Crafting Saturday! Make a new ornament for your collection, and perhaps a few to give as gifts. My sister always gives me an ornament for Christmas, so I'm going to try Deb's tutorial to make for my sister.
I love customizing my craft projects with Tangie's products because they give it such a cool flair, with her artsy style that I love so much. I never have to worry about making a mistake, because then I can just re-print the paper and re-do it, as many times as necessary…whereas if you purchased a piece of paper, you have just that piece of paper – and I often hear that people are afraid of ruining that gorgeous piece of paper. It's so much easier when you print your favorite Studio Tangie paper, and have no worries, since you know you can re-print it!
View Tangie's Holiday Kits here.
Inspiration for Holiday Hybrid Crafts by the Studio Tangie Creative Team
Julie Ann
I was inspired by this Pinterest post, and used this pattern for the birds. I decided to amp up the design by using Tangie papers for all of the main parts, and I did use patterned cardstock for the inside wings.
The mirror is in our hallway, so it was a little difficult getting a really good photo, but you get the idea.
Credits:
Frame: A Door Opened by Tangie
Papers: MUSEical by Tangie, Winter Wonder by Tangie
Pattern: Stylishtrendy.com

Deb aka pennyshilling's Festive
Christmas Ornaments with Tutorial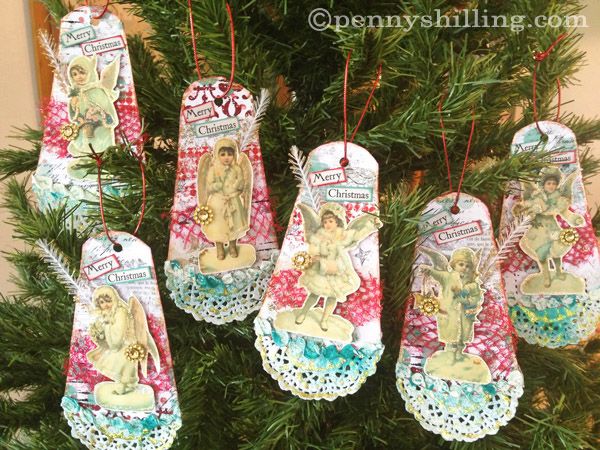 Digi Products Used
Tangie Winter Wonder Kit~ for the Angels
Tangie Spatter Graffiti Winterland ~ Used to create background paper
Tangie Splatter Graffiti Silverfrost ~ Used to create background paper
Other Products/Items Used
Tag-template size and shape as desired
Paper Doileys to suit
Paper towel-cheap thin varieties works well
Gold Glitter Glue
Stickles Diamond
Dylusions Spray Ink – Vibrant Turquoise
Distress Ink stamp pads – Barn Door & Tumbled Glass
Washi Tape
Recycled red onion bag
Embellishments -gold button, glitter faux feather tree branches
Metalic trim for hanging
Heavy weight matt photo paper for printing angels & background paper for tags
Double sided tape
Double sided dimensional mini squares
Bostik Glu Tack
Helmar Scrap Dots
Instructions:
Christmas Tags/Decorations – Could also be reworked slightly to make place cards, mantel swag or Christmas greeting cards.
Step 1. Make a template for the tag shape you wish to make and select suitable size paper doileys to suit project.
Step 2. Cut doileys in half and lighly spray with Dylusions ink, as seen above.
Note: Use paper towels to mop or dab up excess ink for use in next step.
Step 3.When dry enhance with gold glitter glue.
********************
Step 4. Tear the paper towel into 1 inch strips.
Step 5. Twist to form paper trim for each tag.
Step 6. Scrunch up strips a little to soften before twisting if necessary.
********************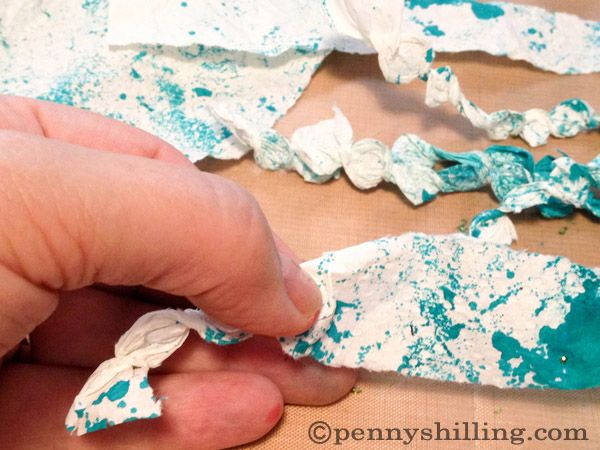 Step 7. Holding paper strip in one hand between thumb and forefinger, gently twist paper away from you twice, allowing the twist to form between your fingers and press.
Step 8. Move thumb along 1/4 inch and repeat the action twisting in same direction to form another 'link' in the paper chain and so on to make sufficient trim.
********************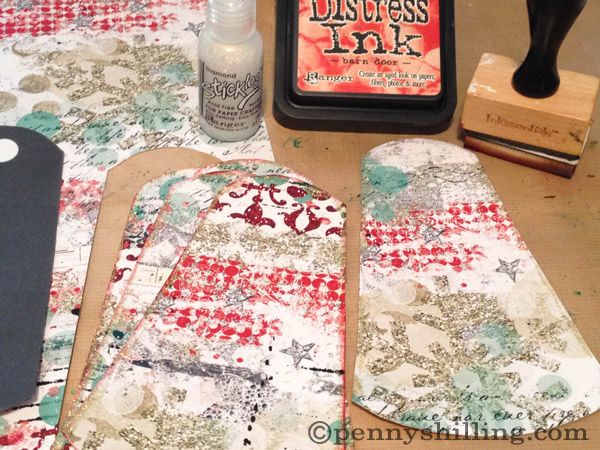 Step 9. Create background paper in Photoshop using Tangies Splatter Graffiti files and print out on heavy weight matt photo paper.
Step 10. Using your tag template cut out tags from created background paper.
Step 11. Lightly Distress Ink all edges with Barn Door.
Step 12. Run a thin trail of Diamond Stickles around all sides.
********************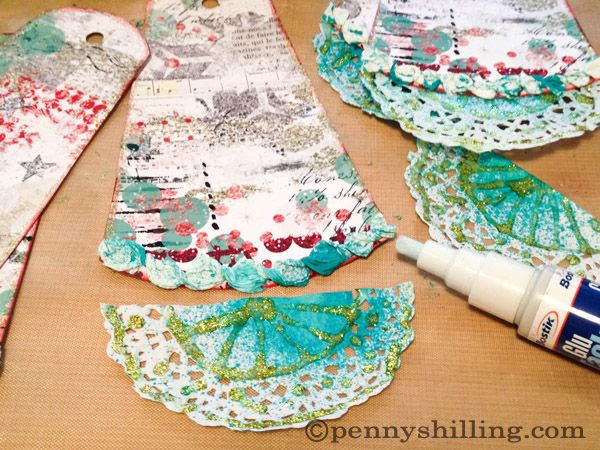 Step 13. Adhere paper twist trim to lower edges of tag using Glu Tack.
Step 14. Trim to neaten.
Step 15. Glue doiley to lower back edge of tag.
********************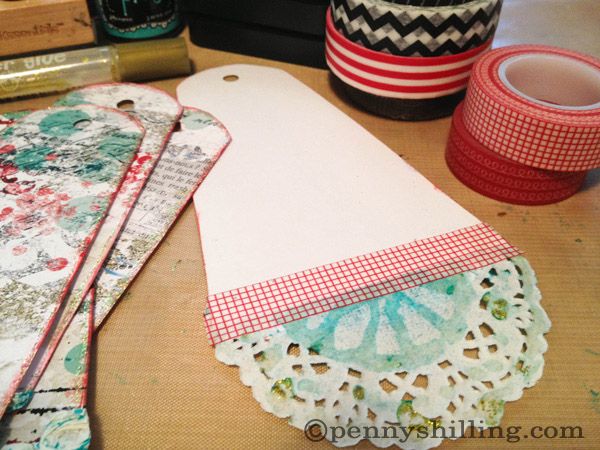 Step 16. Neaten back edge of doiley with strip of Washi Tape.
Note: Use space on back of tag for personal greeting if desired.
********************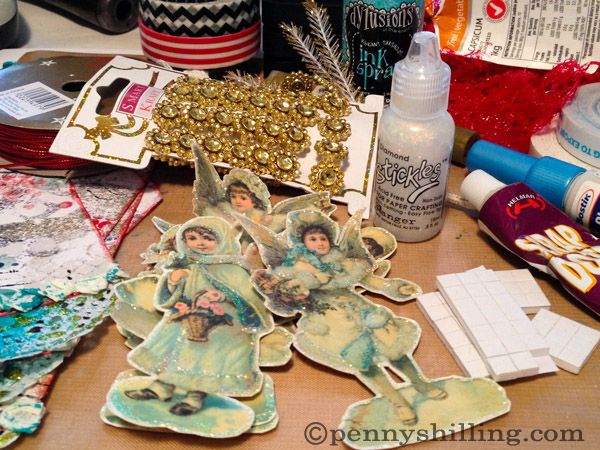 Step 17. Size as required and print out Angels from Tangies Winter Wonder Kit on heavy matt photo paper.
Step 18. Trim leaving a small white border to enhance cutout effect.

Step 19. Add Diamonds Stickles to all edges and details.
********************
Step 20.Use a strip of double sided tape to attach small piece of onion netting.
Step 21. Position branch on top and attach angel cutout using the  dimensional double sided tape squares.
Step 22. Position and attach gold button with Helmar Glue Dot and allow to dry.
********************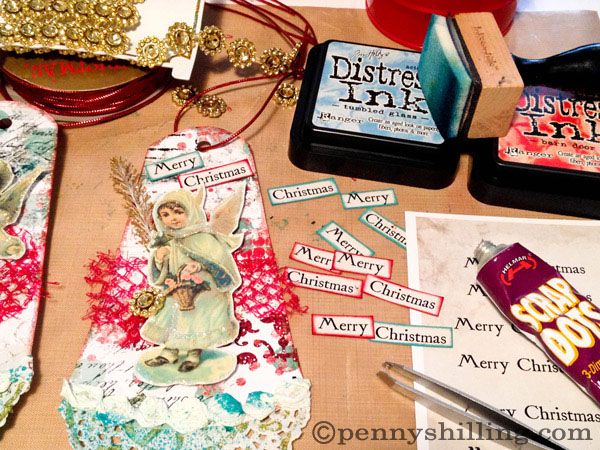 Step 23. In Photoshop create and print out Merry Christmas word strips.
Step 24. Distress Ink all edges using a mix ofBarn Door and Tumbled Glass.
Step 25. Use Scrap Dots to adhere the strips using enough of the glue so that the strip are slight raised.
Tip: Hold strip with tweezers to apply Scrap Dots and positon the strips.
To complete punch hole at top of each tag and attach tie for hanging.
********************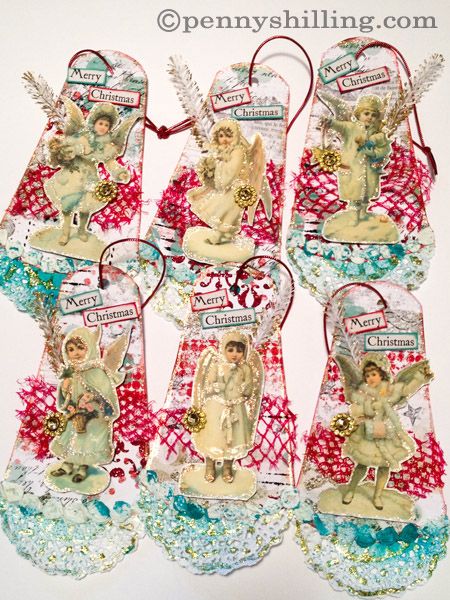 Wow! What an awesome tutorial! Thank you so much Deb for rockin' this out for us. The creative team was flipping out over Deb's inspired use of paper towels! I, myself, want to break out my doilies and Dylusions and start printing out angels!
Now it's your turn! Have fun making your own Hybrid Holiday Crafts with Studio Tangie products.
Link up your page here (copy and paste the url) in the comments section of this post. Join our fun, lots of members are jumping in!
Julie Ann Shahin is a New York-based art journaler, scrapbooker, mixed media craftster who specializes in hybrid and altered art techniques. She will be blogging regularly for tangiebaxter.com on Saturdays. You may contact Julie Ann directly at julieann dot shahin at gmail dot com
If you liked this post, you'll also love:
One Response to Art Journaling 102: Holiday Hybrid Feature with a Christmas Ornament Tutorial!