"I Don't Know What To Journal" Myth-Buster Prompt #15!
Welcome to our "I DON'T KNOW WHAT TO JOURNAL ABOUT" MYTH-BUSTER PROMPT #15 by Tangie!
Prompt: If you could be any age again for one week, what age would you be?
Journal your thoughts and upload your page to your blog or favorite gallery. Link it up in the comments of this blog post.
Remember how Scrooge was able to visit his younger self with the Ghost of Christmas past? Let's pretend you not only visit your younger self, but you get to be that age for 7 days again!
Should you decide on based on your favorite memories? Perhaps there is a time in your life you would like to change the ending? Perhaps you just want to make more of a difference to the people you knew at that time?
Would you just enjoy being in a younger body that can move, shimmy, and shake much more able than you can now? Or would you give yourself some advice now that hindsight is 20/20?
How would you spend your days? Would you enjoy sleeping in or not want to miss a single minute and wake at the crack of dawn?
What about the fashion of that time? Would you revel in an 80′s hair mullet or 70′s disco clothing?
Do you think times were simpler then? Did you have more or less stress?
Let's take a look at how the creative team tackled this prompt!
Inspiration for IDKWTJ Myth-Buster Prompt #15 by the Studio Tangie Creative Team
Heather aka sparklyduck75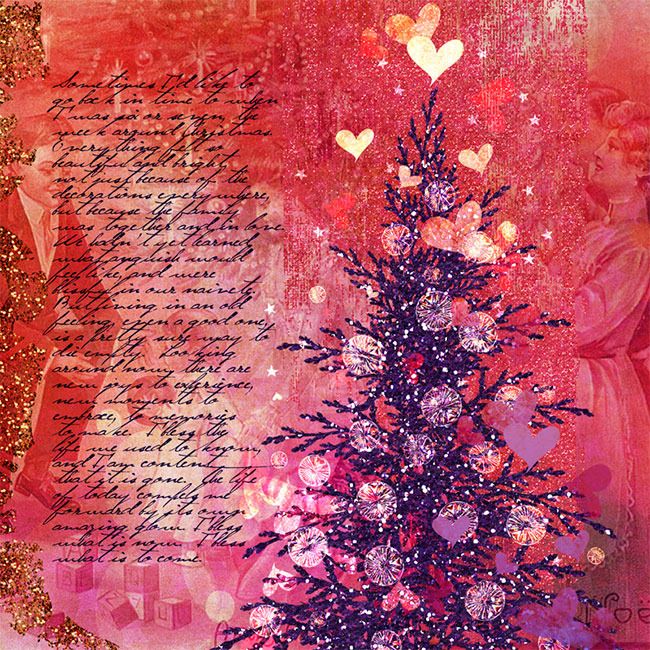 Sometimes I'd like to go back in time to when I was six or seven, the week around Christmas. Everything felt so beautiful and bright, not just because of the decorations everywhere, but because the family was together and in love. We hadn't yet learned what anguish would feel like, and were blissful in our naivete.
But living in an old feeling, even a good one, is a pretty sure way to die empty. Looking around now, there are new joys to experience, new moments to embrace, new memories to make. I bless the life we used to know, and I am content that it is gone. The life of today compels me forward by its own amazing glow. I bless what is now. I bless what is to come.
CREDITS-ALL BY TANGIE BAXTER: My Favorite Things – Family; My Favorite Things – The Christ Child. OTHER: Font: Jellyka Gare de Chambord.
***************************
Rain
For My Dad
September 9th, 1906-February 11th, 1983
I would love to travel back to the week before my 23rd birthday, just after graduating from Chiropractic school, I didn't have a family of my own or a full time practice yet, I didn't live 3000 miles away from my parents yet…I would spend those 7 days with my beloved father, who died all too soon a year later.
But that week, the sun was still shining, he wasn't so very ill that the stories had stopped for lack of breath. We could still walk together and hold hands, watching the change of light over the tomatoes in the garden, still sneak some potatoes from under the plants for your Celtic soul to have with every dinner.
I would say all the things that were stuck in my throat, write down the names and stories of those people in the old photos, re-work all world policies and health care with you from the couch. Eat butter pecan ice cream for dinner and watch endless episodes of Mash.
7 days. Just to hear your voice again, just to have those precious everyday moments where love truly lives.
CREDIT – All Tangie Baxter: Celtic traditions
***************************
Jaimie aka strawberryredhead
I hope it's okay that I used a journaling font that is not really legible. The journal is kind of personal to me.
CREDITS: ALL BY TANGIE BAXTER – Splatter Graffiti Patina by Studio Tangie Baxter; Conversed Grunge 1 by Studio Tangie Baxter; Splatter Graffiti Write by Studio Tangie Baxter; Time Digital Stamps by Studio Tangie Baxter; 2012 Art Journal Caravan 05 by Studio Tangie; Proverbs Word Strips by Studio Tangie; AJC 2012 Parcel 16 Fusion Collage 2 by Studio Tangie Baxter; Gesso Messy No. 5 – Borders by Studio Tangie Baxter; Journal Anthology 9 by Studio Tangie Baxter; She Found Her Bliss by Studio Tangie Baxter; OTHER -  Fonts: SignericaFat
***************************
ms. mauk
Credits all by Tangie Baxter:
AJC12 Parcel 15
AJC12 Parcel 07
AJC11 Parcel 50
AJC12 Parcel 44
Luminescence
Bestiary Beasties
Bestiary Beasties Lace
Gesso Messy 13
Lost and Found
Autumns Poetry staple
AJC12 Parcel 33
AJC12 Parcel 19
***************************
Julie Ann
This page assumes that I would be able to go back in time to change something about myself with the knowledge I have in the present. I realize that this would alter my future, however, I believe in destiny so I think I would somehow still end up with the wonderful life I have now! Just without all the grief  and depression I went through!!!!
CREDITS: ALL STUDIO TANGIE -
Tape, Paper, Arrow: NEW Art Journal Caravan 2013 Expedition Kit
Gesso Lace: AJC 12 Parcel 4
Paint scratch: AJC12 Parcel 23
Notes: Articulates 01
Tag: Jungle Salvage
Alpha: Autumn's Poetry
Art Doll: AJC 11 Parcel 29
Stitchy Gesso Collage: AJC 12 Parcel 49
Fonts: Tangie Art Journaling Font MadHatter, Tangie Art Journaling Font RockingHorseFly
Now it's your turn!
Let's see your movie pages!!!
Journal your thoughts and upload your page to your blog or favorite gallery. Link it up in the comments of this blog post.
Julie Ann Shahin is a New York-based art journaler, scrapbooker, mixed media craftster who specializes in hybrid and altered art techniques. She will be blogging regularly for tangiebaxter.com on Saturdays. You may contact Julie Ann directly at julieann dot shahin at gmail dot com
You might also enjoy: