If Every Art Journaler Read the Same Book
Fabulous Friendship Festival Book Club
Prompt #2
Happy Saturday, my friends! It's our first official prompt from our book, Fabulous Friendship Festival by Sark. Did you have fun creating your journal covers last week?
Feel free to upload them to our Book Club Gallery, and/or post a link here the blog to where you have uploaded your creations. I would really love to see them!
It's been a pleasure to start to get to know some of you in our Book Club Group discussions at Connect. Thank you for introducing yourselves.
If you are NEW, here are the links you will need to get started:
Anyone can join at anytime!!!
Before I introduce the prompt for this week, let me give you the "instructions" for following the prompt.
Instructions for Each Week
Step 1. Come to the Studio Tangie blog (sign up for email notifications if you prefer) every Saturday February 2  through April 20 to see the prompts and inspiration based on the assigned readings. Tag: Art Journal Book Club
Step 2. Journal based on the prompts. Pick from one or more of the prompts. There will also be an Art Journal Technique suggestion each week. You can make as many pages or as few pages as you like. Any size, any format, any medium, any supplies, although we do enjoy Studio Tangie products.

Step 3. Participate and make friends in discussion of the readings at the social network as much as you like. Connect in the FREE special group just for us HERE. Register or login with your Facebook account. You can also ask questions there.
Step 4. Upload your finished art journal page from the prompt to the our group gallery at Connect, and then post on the Studio Tangie blog, on the corresponding prompt, that you have uploaded your page(s). If possible, leave the url of your page. (Copy and paste). This lets everyone know when to look in the gallery, and I'll get an email notification.
Step 5. Comment on other group members pages in our group gallery.
Step 6. Make sure you have fun!
February 9 – 15, Prompt #2:
Self Friendship
Assignment: Read Chapter 1, Self Friendship
Pages 19-36
**********************
Next, create an art journal page or more from the following prompts.
If something from the book inspires you, instead, go with that. There are no rules in art journaling!
The following prompts are: They Say (quotes), Questions to Ponder, Be Inspired (by specific pages from the book), and Art Journal Technique.
Just do whatever inspires you, however it inspires you.
No rules!!!
The Prompts:

Be inspired by a quotation!
Every human has four endowments- self awareness, conscience, independent will and creative imagination. These give us the ultimate human freedom… The power to choose, to respond, to change.
Stephen Covey
Trust yourself. Create the kind of self that you will be happy to live with all your life.
Golda Meir
Be inspired by one (or more) question(s)!
Can you be comfortable being alone with yourself?
How do you "fill your well"?
What steps can you take to be your own best friend?
Do you keep a journal? Do you find yourself writing back in your "wise self" voice?
Join us in Our Book Club Group at Connect to discuss these questions and the chapter! I hope to post a video of my thoughts very soon.
Be inspired by the book!
Pages 28-30, 34, 35
Or any of the pages in between!
Be inspired by a technique!
ART JOURNAL TECHNIQUE: Try Creative Lettering in a way you have not tried before
Check out my Lettering Pinterest Board, and also this Text Board.
Inspiration for Prompt #2:

Julie Ann Shahin
Hybrid
Trust yourself. Create the kind of self that you will be happy to live with all your life.
Golda Meir
Digital Credits:
Hearts: AJC12 Parcel 6
Lightbulb, Gesso: You Are Brilliant
Butterfly: Red All Over
Paper Scraps: Stitchy Stackers 01
Gesso Frame: Gesso Messy 6
Background: Quote Backgrounds
Fonts: TangieAJCtweedledee, TangieAJFtweedledeedum
Style: Tangie Paperworn Style
Physical Products:
Fabulous: Rubon modified with pen
Layered stickers: American Crafts
Word phrase stickers: Heidi Swapp
Washi tape
Label rubons: Hambly
Mini letter stickers: Making Memories
Water-soluble crayons
Journaling pen

TinaC aka tina319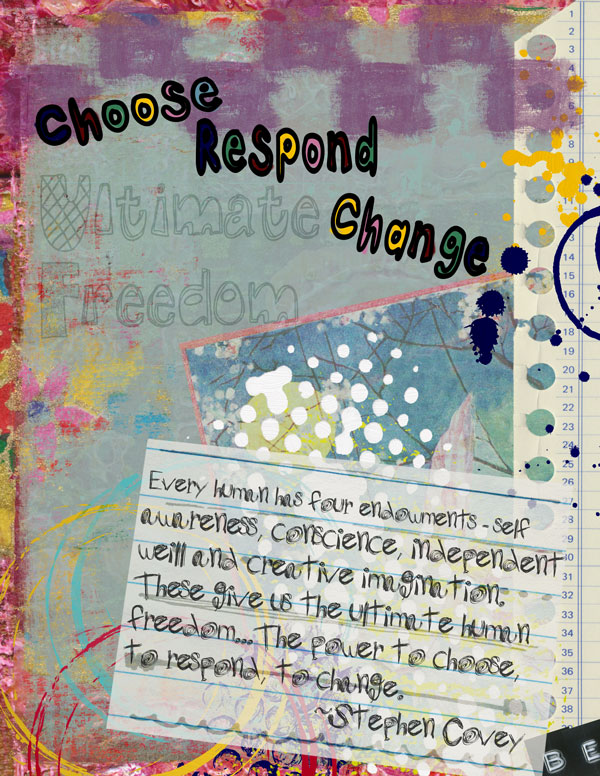 Choose, Respond, Change – digital version (see hybrid version below)

Journaling reads:
"Every human has four endowments- self awareness, conscience, independent will and creative imagination. These give us the ultimate freedom…The power to choose, to respond, to change. ~Stephen Covey
Credits:
All images are from Tangie Baxter's You Are Brilliant Kit
Fonts are: Old Crab, A Teacup Full & Gryphon by Tangie Baxter
Choose, Respond, Change: Hybrid Version
Heather aka sparklyduck75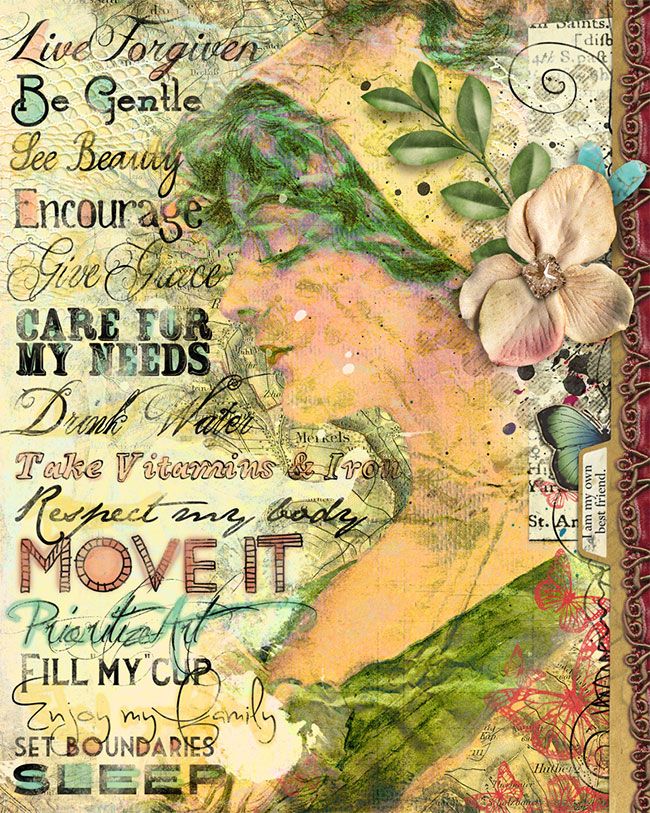 What steps can you take to be your own best friend?
I'm a *terrible* friend to myself, truly, so some of these will seem like no brainers to others, but they will be life-changing for me as I begin to treat myself this way (for instance, sleep seems obvious, but I have a habit of staying up till 4 or 5 in the morning, and sometimes don't go to bed at all, then my days are ruined). I tried to think here of things I'd say to, or do for, a friend but never emphasize or offer to myself:
Live forgiven. Be gentle. See beauty. Encourage. Give grace. Care for my needs. Drink water. Take vitamins and iron. Respect my body. Move it. Prioritize art. Fill my cup. Enjoy my family. Set boundaries. Sleep.
CREDITS by Tangie Baxter:
AJC 2010 Starter Kit; AJC 2013 Starter Kit; AJC 2011 Parcels 30 and 47; AJC 2012 Parcel 11; A Door Opened.
FONTS, top to bottom:
JellykaDeliciousCake; CalamityJaneNF; SimpleSnails; TheWorldIsYours; JellykaKing'sHat; FTRosecube; TheKing&QueenFont; Tangie's Jabberwock; JaneAusten; Tangie's Chesire; JellykaVampireStreet; Lewisham; SweetlyBroken; MarketDeco; Turnpike.
ms. bailey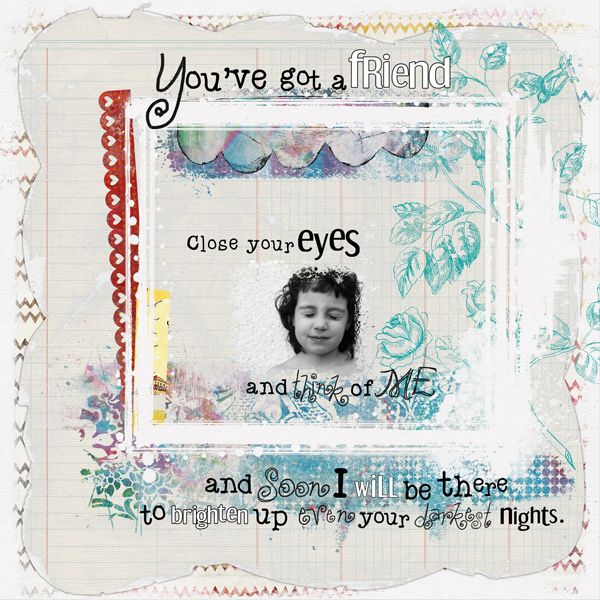 Lyrics from You've Got a Friend by Carole King: "Close your eyes and think of me and soon I will be there to brighten up even your darkest nights."
Do you remember the child you used to be? That little girl is still there waiting to give you unconditional love and acceptance. She is a friend you can always turn to. She will always be on your side.
Credits
From Tangie Baxter: You are Brilliant, Gesso Messy Episode 6, Splatter Graffitti Masks: Set 1 and 3, and Virtuosity, Being Me Alpha (recolored with a stroke added), Dream Spilling Alpha, Tweedledee Font.
The image of the girl is from Creative Commons on Flickr.
Rain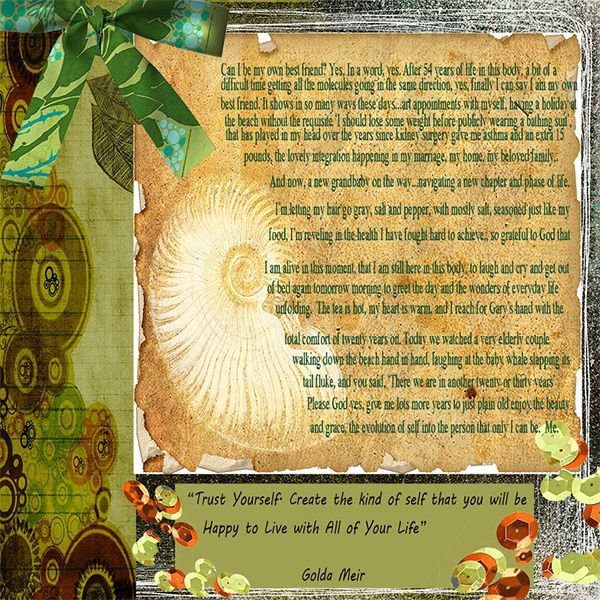 (Click on image for larger version)
Can I be my own best friend? Yes, in a word, yes. After 54 years of life in this body, a bit of a difficult time getting all the molecules going in the same direction, yes, finally I can say I am my own best friend. It shows in so many ways these days…art appointments with myself, having a holiday at the beach without the requisite, "I should lose weight before publicly wearing a bathing suit", that has played in my head over the years since kidney surgery gave me asthma and an extra 15 pounds. The lovely integration happening in my marriage, my home, my beloved family. And now a new grandbaby on the way…navigating a new chapter and phase of life.
I'm letting my hair go gray, salt and pepper, with mostly salt, seasoned just like my food. I'm reveling in the health I have fought hard to achieve, so grateful to God that I am alive in this moment, that I am still here in this body, to laugh and cry, and get out of bed again tomorrow morning to greet the day and the wonders of everyday life unfolding.
The tea is hot, my heart is warm, and I reach for Gary's hand with the total comfort of twenty years on.
Today we watched a very elderly couple walking down the beach hand in hand, laughing at the baby whale slapping its tail fluke, and Gary said, "There we are in another twenty or thirty years". Please God, yes, give me lots more years to just plain old enjoy the beauty and grace, the evolution of self into the person that only I can be. Me.
Quote: "Trust yourself. Create the kind of self that you will be happy to live with all your life" Golda Meir
Credits -Tangie Baxter:
Compendium of dreams
Field notes: Fall
TBM journaling card
Bestiary of Beasties
Live green swirl paper
Julie Ann Shahin
Fill My Well – Digital Version

Journaling: Watch movies. Free Kindle books. Surf Pinterest. Take a     bath. Music. Cuddle. Walking. Go to crops. Meditate. Skype. Draw. Vacation. Daydream. Browse craft store. Go boating in Summer. Healthy food. Be Creative. Photography. Green      Tea. Time for fun. Dog. Facebook. Journal. Adventure. Girl Time. Dance. Spirituality. "Me" Time. Favorite TV. Get a massage. Family time.
Credits:
Being Me by Studio Tangie (paper color altered)
Steampunk Je T'adore Collab by Tangie and Studio Rebecca
Font: Tangie AJFWonderland
Fill My Well – In My Journal
Intention and Letter to Self
Journaling: Practicing Self Friendship
I intend to treat myself as a cherished friend everyday.
Dear Julie Ann,
Thank you for your friendship. We have been through thick and thin together, and I am honored to have been on this journey with you. I am so proud of all the soul work you have done to re-kindle your friendship with yourself.
I'm grateful you are learning healthy ways of eating, plus going to exercise class, longer walks with the dog, writing affirmations, following your dreams, making new friends, and giving love. Thank you for all you do.
I'm grateful for how you cherish your alone time. Yet you are open to spending time with others. I am grateful you are authentic with the people in your life by finding your true voice, and trusting your intuition.
I'm grateful that you have an animal friend in Friday, who has shown you that friends may not always be human. I'm grateful for green tea, art, meditation, music, and all things nurturing. Thank you for starting this book club, and for giving me new reasons to be my own best friend.
Love,
Julie Ann
Products used:
Flower: Webster's Pages
Various markers
Adhesive: Beacon 3-in-1
Sandy aka msmauk
What steps can you take to be your own best friend?
Journaling: Promise me you will always remember: You're braver than you believe, and stronger than you seem, and smarter than you think. ~ a. a. milne, Christopher Robin to Pooh
Credits:
Tangie Baxter:
Thoughts of Thee
Collage Fodder
AJC12 Parcel 12
AJC12 Parcel 20
DOD Cuatro
Dost Love Life
Super Duper Girls
SBA Port Au Prince
Journal Anthology
Ultimate Art Doll
AJC Journey 13
Steampunk Maritime Alpha
Glittered Red Alpha
Conversed 1 Alpha
Other: Paula Kesselring: Fresh From The Farm (chains)
Fonts: Tangie Baxter AJF Larkspur & tangie Baxter AJF MaryAnn
Heather aka sparklyduck75
I've been avoiding doing this for weeks and almost talked myself out of it, till my book arrived today for the AJC book club and the first chapter was about being a friend to yourself and even writing yourself a letter, the very thing I'd been avoiding (although don't worry, the book doesn't ask you to do anything this wrenching!! not at all). So FINE, I'll do it, I'll do it. Now that the scab is ripped off, the healing can begin. Bear with me.
Dear Heather,
I hate the man who locked Quasimodo in the tower. I hate his cruelty, his reckless abuse toward that tender-hearted soul. I hate the things he caused the boy to believe about himself. But the shame is mine. I've done all this, and more, to you.
I've denied you any love and friendship. I've refused to nourish you, either with healthy foods or with simple kindness. I've kept you covered, hidden, afraid for anyone to see your ugliness. I've silenced your voice. I excuse away any positive thing others may say about you, but I accept and feed you on their negativity. I've denied your freedom, refused your pursuit of happiness, forced you to sustain yourself on the barest minimum. You don't even have panties without holes in them. It's amazing you've survived this long, solely on your faith in God and in the goodness of others.
I've turned you into what you are, then hated you for what you've become.
I'm so sorry, my dearest one. I ache for you, for all I've done to you, and ask you to forgive me. I crave your grace, and you deserve it from me. You have no reason to believe I love you, but I will convince us both.
I promise to give you the love and confidence and encouragement I give so freely to others. You deserve more than enough. I celebrate all the lights of God within you. You are free and you are worthy of my love. It will be the greatest joy of my life to rediscover you.
BY TANGIE BAXTER:
Papers and rose stamp from You are Brilliant!
Cage and paint splatters from Journal Anthology 9
OTHER RESOURCES:
Blood is actually recolored honey (!) from Baby Bee Garden by Lorie Davison.
Mended heart from Every Little Bit Counts collection.
"Raging Beauty" sketched figure by Gavade at deviantArt.
Font: Jellyka Gare de Chambord.
*****************************
THANK YOU SO MUCH TO MY TEAM FOR YOUR AWESOME PAGES!!!
Next week, I'll see you back here for my prompts based on Chapter 3!
If you have the book, and want to know what Chapters we will be reading, or if you want to read ahead (yet know this is not a race! you can read as we go along!!!)
here is the SCHEDULE:
Prompt 1: No reading instructions
Prompt 2: Chapter 1 – Pages 19-36
Prompt 3: Chapter 3, Pages 55-76
Prompt 4: Chapter 4, Pages 77-94
Prompt 5: Chapter 5, Pages 95-119
Prompt 6: Chapter 6, Pages 120 – 135
Prompt 7: Chapter 7, Pages 136-150
Prompt 8: Chapter 10 Pages 189-206
Prompt 9: Chapter 11, Pages 208-227
Prompt 10: Chapter 12, Pages 228-247
Prompt 11: Finale, Pages 248-253
Now it's your turn! I am looking forward to seeing your pages on Self Friendship!!!
Please share a link to your page (copy and paste the url) here on this post!
Remember: come join us at