If Every Art Journaler Read the Same Book: Friendship Book ClubPrompt #3

If Every Art Journaler Read the Same Book
Fabulous Friendship Festival Book Club
Prompt #3
Hello Book Clubbers! Hello New Members!!! Welcome!
Keep sharing and uploading your Covers, Title Pages, and Self Friendship Pages. I so enjoy seeing your talents. Upload to your favorite gallery and share the link (copy and paste the url here on the blog or on our Connect group), or start your own album at our Connect group.
If you are NEW, here are the links you will need to get started:
Anyone can join at anytime!!!
Before I introduce the prompt for this week, let me give you the "instructions" for following the prompt.
Instructions for Each Week
Step 1. Come to the Studio Tangie blog (sign up for email notifications if you prefer) every Saturday February 2  through April 20 to see the prompts and inspiration based on the assigned readings. Tag: Art Journal Book Club
Step 2. Journal based on the prompts. Pick from one or more of the prompts. There will also be an Art Journal Technique suggestion each week. You can make as many pages or as few pages as you like. Any size, any format, any medium, any supplies, although we do enjoy Studio Tangie products.

Step 3. Participate and make friends in discussion of the readings at the social network as much as you like. Connect in the FREE special group just for us HERE. Register or login with your Facebook account. You can also ask questions there.
Step 4. Upload your finished art journal page from the prompt to the our gallery at Connect (or your favorite gallery), and then post on the Studio Tangie blog, on the corresponding prompt, that you have uploaded your page(s). If possible, leave the url of your page. (Copy and paste). This lets everyone know when to look in the gallery, and I'll get an email notification.
Step 5. Comment on other group members pages in our group gallery.
Step 6. Make sure you have fun!
February 16 – 22, Prompt #3
New Friendships
Assignment: Read Chapter 3, Making and Creating New Friendships
Pages 55- 76
*********************
Next, create an art journal page or more from the following prompts.
If something from the book inspires you, instead, go with that. There are no rules in art journaling!
The following prompts are: They Say (quotes), Questions to Ponder, Be Inspired (by specific pages from the book), and Art Journal Technique.
Just do whatever inspires you, however it inspires you.
No rules!!!
The Prompts:

Be inspired by a quotation!
If a man does not make new acquaintances as he advances through life, he will soon find himself alone. A man should keep his friendships in constant repair.
Samuel Johnson
You can't stay in your corner of the Forest waiting for others to come to you. You have to go to them sometimes.
A.A. Milne, Winnie-the-Pooh
Be inspired by one (or more) question(s)!
When was the last time you developed a spontaneous friendship? How did it happen?
Have you created a "family of choice" replicating a healthy or an unhealthy version of your family of origin?
Join us in Our Book Club Group at Connect to discuss these questions and the chapter! I hope to post a video of my thoughts very soon.
Be inspired by the book!
Pages 62, 64, 72-75
Or any of the pages in between!
Be inspired by a technique!
ART JOURNAL TECHNIQUE: Try playing with GESSO in a way you have not tried before!
Check out my Art Journaling Gesso Pinterest Board, for both Digital and Non-Digital Artists!
Inspiration for Prompt #3:
Heather aka sparklyduck75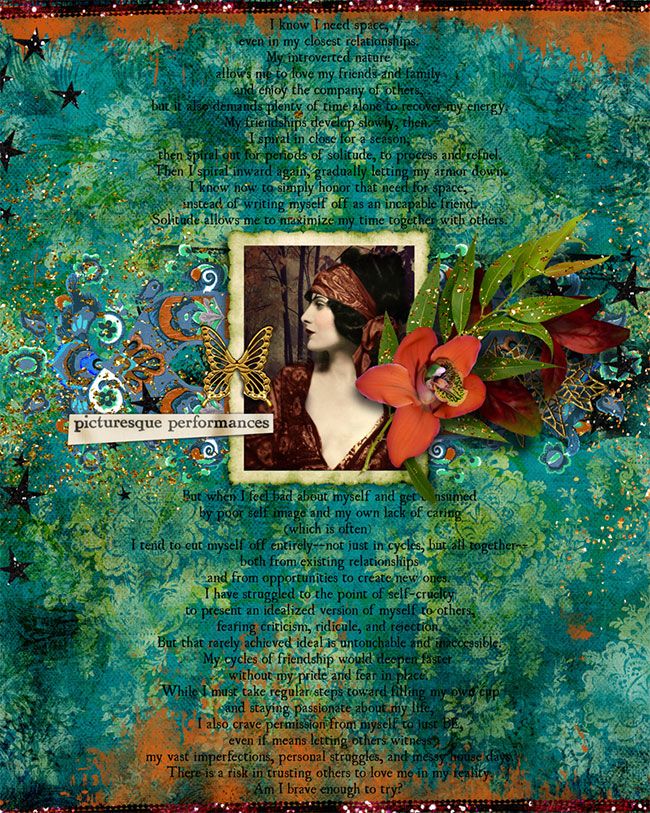 I know I need space, even in my closest friendships. My introverted nature allows me to love my friends and family and enjoy the company of others, but it also demands plenty of time alone to recover my energy. My friendships develop slowly, then. I spiral in close for a season, then spiral out for periods of solitude, to process and refuel. Then I spiral in again, gradually letting my armor down. I know now to simply honor that need for space, instead of writing myself off as an incapable friend. Solitude allows me to maximize my time together with others.
But when I feel bad about myself and get consumed by poor self-image and my own lack of caring (which is often), I tend to cut myself off entirely–not just in cycles, but all together–both from existing relationships and from opportunities to create new ones. I have struggled to the point of self-cruelty to present an idealized version of myself to others, fearing criticism, ridicule, and rejection. But that rarely achieved ideal is untouchable and inaccessible. My cycles of friendship would deepen faster without my pride and fear in place.
While I must take regular steps toward filling my own cup and staying passionate about my life, I also crave permission from myself to just BE, even if it means letting others witness my many imperfections, personal struggles, and messy house days. There is a definite risk in trusting others to love me in my reality. Am I brave enough to try?
CREDITS by Tangie Baxter: Gypsy Rhapsody; Call of the Gypsy; Orchid Elixir; AJC2013 February Collection.
Font: UglyQua.
Gypsy photo from the Internet.
TinaC aka tina0319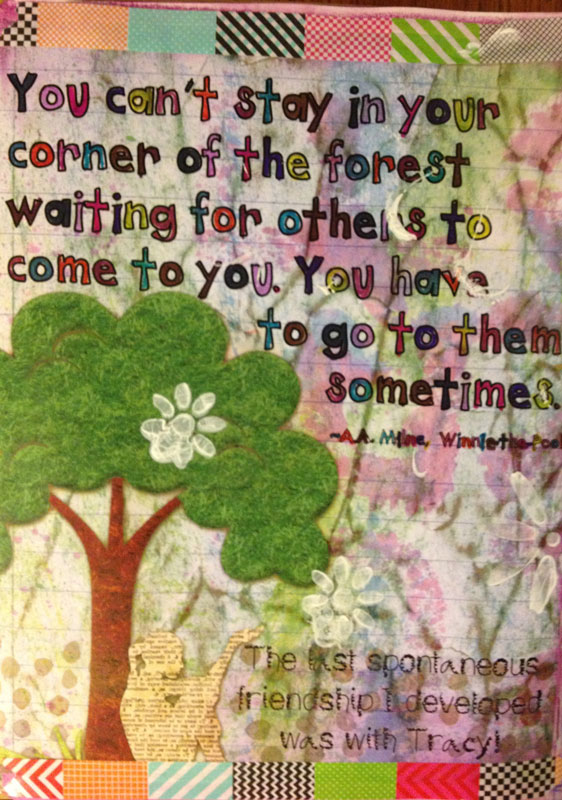 Journaling:
"You can't stay in your corner of the forest waiting for others to come to you. You have to go to them sometimes." ~A.A. Milne, Winnie-the-Pooh
"The last spontaneous friendship I developed was with Tracy!"
Credits:
tangie_AJC12_OctGift_8
tangie_inkydinkydoopapers2
tangie_collagefodder_newsprint1_4
tangie_collagefodder_newsprint1_9
Fonts: Down the Rabbit Hole & Elephants by Tangie Baxter
Other – Tree: digiscraps_familygatheringsAddOn_FeltHouse01 by Tina Campbell
Sandy aka msmauk
Journaling: Do I know how to find a friend? I have 7 brothers and sisters, 7 children, and 17 grand-children. There has always been someone around to talk to, to hang out with, but they have mostly grown up and moved on. Do I know how to be a friend? These people always liked me because they were family. Will someone else like me because I am me? Where do I begin? Why did I wait so long to realize that this is a skill that I don't seem to possess? I have lots of acquaintances, how do I turn them into friends? Do I have the courage to reach out and try? I must try or one day I may be truly alone.
Credits:
Tangie Baxter:
Gesso Messy 14
Gesso Messy 15
AJC13 Feb Collect
AJC12 Parcel27
What Rapture
Super Duper
Tangie Baxter & DeCrow Designs Collab, Hero Night
Rebecca McMeen, Whim
Fonts: TangieAJFdormouse, Shannon Extra Bold ATT, & Scrap Casual
Rain K.
Quote: "If a man does not make new acquaitances as he advances through life, he will soon find himself alone. A man should keep his friendships in constant repair…Samuel Johnson"
Journaling:
I am so very grateful that I learned years ago to take care of my relationships, to myself, yes, harder than taking care of my outer world…giving myself a vote, my body vs. my mind or heart or desires to participate, help out, stay late, finish a project, though I am screaming for rest, sleep, food, whatever. I am so much better these last years, the beauty of the mid-fifties, living in a small town, knowing which neighbors need help, laughter, companionship, knowing that regardless of how any of us look on the outside, we are all fighting some type of battle inside.
Since November, a real challenge, learning to work on a board with people that hold exactly the opposite opinion from mine, navigating the murky waters of community politics, and now, yesterday, having been successful, creating a bridge between worlds, a safety zone for my tender soul, with respect for all the other sides. Exhausting, exhilarating, proud, hung over, yes, a little worn out with it all, but happy to be at this phase.
Credits: - All by Tangie Baxter
Font: Tangie MaryAnn
Beastiary of Beasties
February AJC13 suppies
Conversed grunge 8
Gesso messy
AJC12 provisions
Julie Ann
Butterfly Sky of Friends, inspired by page 63
Julie Ann
On a warm day at the end of July, maybe it was August, summer of 2012, I pulled up the driveway of my in-laws, where they had lived for forty years. We had recently buried my father-in-law. My mother-in-law was in the hospital and would not be able to live alone.
The family found a buyer for the house immediatley and on this day in July, my husband was cleaning out the house after the estate sale. I was here to surprise him and help out.
However, as I pulled up the dreiveway, I was the only one there. He must be making a run to Goodwill, I decided. I got out of my car, and opened the gate to the backyard. It was a beautiful day, I thought. I'll just rest here by the pool and wait. It might be one of the last times I'll get to enjoy it. After about ten minutes, I heard a car pull up, and was relieved it didn't take him long. I made the right choice to wait.
I called out to my husband, "David?" Instead, I heard back a sweet female voice, "Hello!"
I quickly rose to my feet and was at the gate in two seconds to greet this unfamiliar face, and she said with a big smile on her face, "Hi, I'm L____." She explained that my husband was following right behind her, that they had just made a trip to Goodwill, and that they had gone to high school together, and they reconnected at the funeral.
Even though my husband had turned down all offers to help with the house, L. had showed up anyways.
I exclaimed, "You are a SAINT!" She explained how Ray (my FIL, and) was her Band Director at Bishop Kearney High School , and that he changed her life.
Laurie was most helpful over the next few days, and we became Facebook friends. We found we had a lot in common.
After a few weeks, she invited my husband and me to to go apple-picking, and we all had a lot of fun. From then on, we were instant friends. We started having girl time together: from picking out wall-paper for her house, to going to lunch, baking together, chats, etc.
I haven't made a spontaneous, instant friend like this that I get along with so well with since high school. In fact, I don't connect with many people other than those I meet online, so to have a friend like this 5 minutes away is a rare treat for me.
Products Used:
Magazine Image
K&Co. Brenda Walton DieCuts
Heidi Swapp Stickers
American Crafts Thickers alpha
Basic Grey flair
Tim Holtz tissue tape
K&Co. border
Scallop diecut
Acrylic paint
Scarlet Lime Journaling Pen
Tutorial: I saved this page from my Buildable Art Journal Tutorial show previously on the blog, and added some embellishments when I added it to this journal. Tutorial Part 1 and Part 2

Products Used:Studio Box Workshop No. 1 by Tangie
K&Co Smash
Hello my name is sticker
K&Co Stickers
American Crafts Apple Sticker
Copic Markers
********************************
Julie Ann
Left Side:
Today's Quote – "Friendships are discovered rather than made." Harriet Beecher Stowe
Technique: Gesso frame, also used gesso to "glue" diecut to page
Products Used:Studio Box Workshop No. 1
K&Co. Amy Butler Diecuts
Gesso
Copics
Water-soluble crayons
Right Side:
Boundaries Unspoken
*****************************
THANK YOU SO MUCH TO MY TEAM FOR YOUR AWESOME PAGES!!!
Next week, I'll see you back here for my prompts based on Chapter 4!
If you have the book, and want to know what Chapters we will be reading, or if you want to read ahead (yet know this is not a race! you can read as we go along!!!)
here is the SCHEDULE:
Prompt 1: No reading instructions
Prompt 2: Chapter 1 – Pages 19-36
Prompt 3: Chapter 3, Pages 55-76
Prompt 4: Chapter 4, Pages 77-94
Prompt 5: Chapter 5, Pages 95-119
Prompt 6: Chapter 6, Pages 120 – 135
Prompt 7: Chapter 7, Pages 136-150
Prompt 8: Chapter 10 Pages 189-206
Prompt 9: Chapter 11, Pages 208-227
Prompt 10: Chapter 12, Pages 228-247
Prompt 11: Finale, Pages 248-253
Now it's your turn! I am looking forward to seeing your pages on New Friendships!!!
Please share a link to your page (copy and paste the url) here on this post!
Remember: come join us at
3 Responses to If Every Art Journaler Read the Same Book: Friendship Book ClubPrompt #3