If Every Art Journaler Read the Same Book
Fabulous Friendship Festival Book Club
Prompt #4
Welcome friends! I'm glad you are back for a new prompt.
Have you been chatting with us in our discussion about the book?
Have you shared your pages with us yet?
Here is a slideshow of the recent pages I've seen created by members of the Studio Tangie Art Journal Book Club (as of 2/17):  CLICK ON IMAGE OR LINK BELOW
SLIDESHOW: Studio Tangie's Art Journal Book Club Members' Pages 2/13 from Julie Shahin on Slide.ly.
Keep sharing and uploading your creations. I so enjoy seeing your talents. Upload to your favorite gallery and share the link (copy and paste the url here on the blog or on our Connect group), or start your own album at our Connect group.
If you are NEW, here are the links you will need to get started:
the announcement of the book club selection
Start Your Own Album At Our Book Club Group (click on black tab titled "Photos", then click on "My Photos", then click on "Create Photo Album")

Anyone can join at anytime!!!
Before I introduce the prompt for this week, let me give you the "instructions" for following the prompt.
Instructions for Each Week
Step 1. Come to the Studio Tangie blog (sign up for email notifications if you prefer) every Saturday February 2  through April 20 to see the prompts and inspiration based on the assigned readings. Tag: Art Journal Book Club
Step 2. Journal based on the prompts. Pick from one or more of the prompts. There will also be an Art Journal Technique suggestion each week. You can make as many pages or as few pages as you like. Any size, any format, any medium, any supplies, although we do enjoy Studio Tangie products.

Step 3. Participate and make friends in discussion of the readings at the social network as much as you like. Connect in the FREE special group just for us HERE. Register or login with your Facebook account. You can also ask questions there.
Step 4. Upload your finished art journal page from the prompt to the our gallery at Connect (or your favorite gallery), and then post on the Studio Tangie blog, on the corresponding prompt, that you have uploaded your page(s). If possible, leave the url of your page. (Copy and paste). This lets everyone know when to look in the gallery, and I'll get an email notification.
Step 5. Comment on other group members pages in our group gallery.
Step 6. Make sure you have fun!
February 23 – March 2, Prompt #4
Friend Nourishment
Assignment – Read: Chapter 4 Friend Nourishment
Pages 77-94
*********************
Next, create an art journal page or more from the following prompts.
If something from the book inspires you, instead, go with that. There are no rules in art journaling!
The following prompts are: They Say (quotes), Questions to Ponder, Be Inspired (by specific pages from the book), and Art Journal Technique.
Just do whatever inspires you, however it inspires you.
No rules!!!
The Prompts:
Be inspired by a quotation!
"It is more fun to talk with someone who doesn't use long, difficult words but rather short, easy words like "What about lunch?"
A.A. Milne, Winnie-the-Pooh
"The glory of friendship is not the outstretched hand, not the kindly smile, nor the joy of companionship; it is the spiritual inspiration that comes to one when you discover that someone else believes in you and is willing to trust you with a friendship."
Ralph Waldo Emerson

Be inspired by one (or more) question(s)!
Tell us about a friendship that is balanced with reciprocal give and take.
Are you comfortable giving advice to a friend? How do they respond? Vice versa: do you take advice well?
Are you good in a crisis for a friend? In what ways are you helpful?
Join us in Our Book Club Group at Connect to discuss these questions and the chapter!
Be inspired by the book!
Pages 83, 88, 93
Or any of the pages in between!
Be inspired by a technique!
ART JOURNAL TECHNIQUE: Create an Art Doll from different kits by Tangie in a way you have not tried before!
Check out my Art Journaling Figures/Faces Pinterest Board for inspiration!
Inspiration for Prompt #4:
Heather aka sparklyduck75
Topic: About balance, advice, perspective, crisis…
I had more journaling in mind for this page, but after I wrote the first sentence, it felt like enough. Last summer I lost my best friend of nearly 20 years, not to death, but to years of unaddressed concerns that finally came to light and ripped us apart. We had waited too long to offer perspective. Instead, we'd done everything we could over the years to make each other safe and comfortable, so comfortable we'd stopped growing and were caving in on ourselves. I didn't realize until after I'd assembled these mermaids, how right it is that they've lost their arms… you use your arms when you swim, to pull yourself forward and give yourself direction. That's something we'd lost: purpose, direction, mobility, strength.
It's painful, obviously, but it's also been unexpectedly liberating for us both. In her absence, my friendships with others have surprisingly deepened and broadened. I've opened myself to new friends in ways I never would have before, and I realized I'd been saving up everything I had for her. She has also been far more social than she ever was before. That is a new thing, and good. I can see that as profoundly as we loved each other, we were two unhealthy people trapped in a state of codependence, feeding on one another's unhealthy psychological and physical habits. In our separation, we've both begun to grow. I've only scratched the surface of the lessons this experience has to teach me, and the ways it can enrich me, with the potential to make all my other friendships better… and so in many ways, even in her absence and silence, she remains my most precious friend.
Credits: BY TANGIE BAXTER: Seaside art doll kit; Flora Finery art doll kit; The Princess with the Sea Green Hair kit; Ocean Life bundle.
Font: Narnia.
ms. bailey
Technique Focus: Art Dolls from Tangie's Kits
"Friendship is born at that moment when one person says to another: "What! You too? I thought I was the only one."
― C.S. Lewis
Credits: by Tangie Baxter
Art Dolls: aMusing Art Dolls, Flora Finery, Ultimate Art Doll
Papers: Serendipitous – used with Art Journal Edges (AJC 2011 Parcel 10)
Elements: Deconstructed Sorbet, Gesso Messy 14
Art Jouraling Font: Dinah
Journaling Lines: Nevermore
Tina C aka tina0319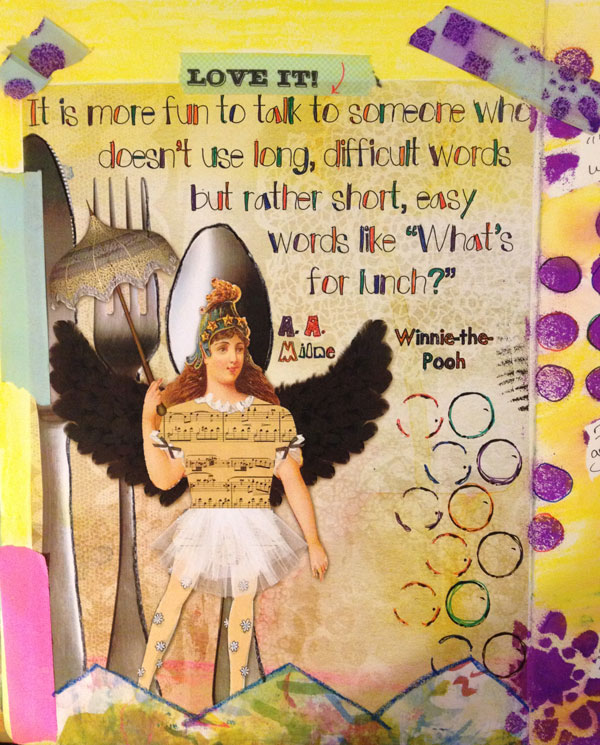 Technique Focus: Art Doll Using Tangie's Kits
Papers:
tangie_deconstructed_sorbetppr7
Elements:
tangie_aMUSEing_blackwings
tangie_aMUSEing_legs_3
tangie_aMUSEing_tullemusic
tangie_aMUSEing_umbrella
tangie_aMUSEing_vintagegirl
tangie_deconstructed_sorbet9
tangie_ink_corporated120
tangie_Conversed5_lace_2
tangie_Conversed7_1
tangie_Conversed7_3
Other Elements:
blushbutter_strawberry_69 – knife
blushbutter_strawberry_70 – fork
blushbutter_strawberry_71 – spoon
Fonts – All by Tangie:
AJF Very Good Advice
AJF Tea Cup Full
AJF White Rabbit
Julie Ann

Technique Focus: Art Dolls with Tangie's Kits
Here's a close-up of the Art Dolls with added real-life embellishments: Epoxy button in hair on left doll, crown in hair on right doll, button on body on left doll, brad at neck on right doll, fleur-de-lis and mini brooch on right doll
Another close-up
Credits – Studio Tangie
Papers: Journal Anthology 9, Journal Anthology 10, AJC Parcel 1
Elements:
AJC Parcel 36, Cupcake Dots, Cupycake, Stitchy Stackers 01, Proverbs, Equestrian Dream, Mr. Darcy
Brushes:
Misty Misters
Fonts: Tangie_AJFMadHatter, Tangie_AJFoysters, TangieAJF_tweedledeeALT
Styles: Tangie Paperworn Styles
Products Used:
Flowers, lace: Prima
Diecuts: K & Co.
Epoxy sticker: Heidi Swapp
Various charms
Brad: Crate Paper
Misc. trims
Circle scallop punch
Specialty paper: black
Mist: Dylusions Black
Rain
Journaling:
I have worked so very hard to stop intimidating you by my very existence. I am brunette and multi-dimensionally textured while you are blond and committed to safety through more ordinary means…I finally understand that you act this way out of fear and insecurity, too many psychedelics in high school, too much hurt and pain from others judging your efforts at art, relationships, life, as boring, pedestrian, stupid, childish. It has taken me years to speak to the insecure, scared woman inside of you, to fully understand that my ability to master so many different aspects of life made you feel even more inadequate, that your husband knowing us for decades made you behave like an insecure brillo pad, that so much of what I fought to tolerate was really the desperate attempt to not shrink into nothingness.
Baby steps. Playing Scrabble on Facebook, helping you plan your garden, finding something to ask YOU to help ME, no matter how small, asking for your recipes, complimenting your cooking, asking your opinion on everything, my color schemes for a piece, which photo tells the story, making you cards of your beloved doggies, listening to the whispers of who you really are, under all the layers of survival compensation.
And so, now I REAP the REWARDS of connection that is real…to spend 2 weeks on Maui enjoying the heck out of you, to relax into the success of slowing down my overwhelming intensity, to listen, to see and feel the hidden sweetness that is really who you are and to look forward to exploring the evolution of our friendship. Learning to be your friend has made me a better person, a more successful human in this great kaleidoscope of life.
Credits:
Tangie Baxter, Rebecca McMeen: Maritime Steampunk
Field Notes, Summer
AJC 12 Cartography
AJC 13, symbols
Director font
Sandy aka ms. mauk
Journaling:
It feels so good to be there for a friend when they are struggling, especially if it seems to help them out. Why then is it so hard to receive the same kind of love from them? Why is the instinct to hide our struggles so strong? Why is it so hard to be the one appearing "weak"? I think that sometimes the most loving (and hardest) thing to do is to let your friend help you!
Quote:
"Oh Master, grant that I may never seek,
as much to be consoled as to console,
to be understood, as to understand,
to be loved, as to love with all my soul"
~ St. Francis of Assissi
Credits all Tangie Baxter:
aMUSEing Art Dolls
Seaside Art Dolls
You Are Brilliant
You Are Brilliant Lace
She Journals
*****************************
THANK YOU BUNCHES TO MY TEAM FOR YOUR FABULOUS PAGES!!!
Next week, I'll see you back here for my prompts based on Chapter 5!
If you have the book, and want to know what Chapters we will be reading, or if you want to read ahead (yet know this is not a race! you can read as we go along!!!)
here is the SCHEDULE:
Prompt 1: No reading instructions
Prompt 2: Chapter 1 – Pages 19-36
Prompt 3: Chapter 3, Pages 55-76
Prompt 4: Chapter 4, Pages 77-94 WE ARE HERE THIS WEEK!
Prompt 5: Chapter 5, Pages 95-119
Prompt 6: Chapter 6, Pages 120 – 135
Prompt 7: Chapter 7, Pages 136-150
Prompt 8: Chapter 10 Pages 189-206
Prompt 9: Chapter 11, Pages 208-227
Prompt 10: Chapter 12, Pages 228-247
Prompt 11: Finale, Pages 248-253
Now it's your turn! I am looking forward to seeing your pages on FRIEND NOURISHMENT!!!
Please share a link to your page (copy and paste the url) here on this post!
Remember: come join us at