I am so dang excited to announce a spring workshop as big as my annual October workshops! These are PACKED full of goodies, techniques and friendship! I hope to see you there.
This workshop will now be held at the NEW STUDIO!
The address of the  studio is
1949 E BROWN RD, SUITE 5
MESA, AZ 85203
HOTEL INFO
Hampton
http://m.hilton.com/mt/hamptoninn3.h…BHX/index.html
or
Hyatt by Bass Pro Shop
http://www.phoenixmesa.place.hyatt.c…otel/home.html
These are nicer hotels, if you want something more inexpensive, the  zip code is 85203 if you want to search for others.
"Not all those who wander are lost" that is our theme for 2014!
Let's make this the best year ever, really allowing ourselves the freedom to explore and MOST IMPORTANTLY learning to ENJOY THE JOURNEY! It is the PROCESS not the finished result that is important. There is no such thing as an ugly or unworthy journal page, there is only the process of discovery. Allow yourself to enjoy your art, allow yourself to mess up, to fail, to be bad, to make mistakes. In reality that is true success, the real freedom art journaling brings. . Let's embrace the process together as we "WANDER" and explore on the LAST EXPEDITION of the Art Journal Caravan!
I got quite a kick out of the new Google doodle today–I clicked through more than my fair share of those ink blots giggling to myself. I thought it might be fun to revisit the ink-corporated art dolls in the store! Today only get 50% off in honor of Hermann Rorschach's birthday!
"He who is not everyday conquering some fear has not learned the secret of life."
~ Ralph Waldo Emerson
Join Tangie during the month of October for this special workshop.
Please join Tangie in this workshop where participants will:
1. Work through finding our little "fear monsters" in 5 minute daily activities.
2. Do a weekly 2 page spread "worksheet" every Friday.
3. Have 3 live chats throughout the month (transcripts of the chats are included the day after for those who cannot attend).
4. Share our thoughts in a private group discussion and create art (optional) which we will share in a private gallery.
The following new kit is made to match fabulous kits created by Rosey Posey & Captivated Visions in the "Shine From Within" series.
Tangie has created a new set of graffiti brushes to use on your pages.
** Last chance for Art Journal Caravan 2013!**
We hope you will join us for the new Facing Your Fears Workshop that is live during the month of October only. Have fun, too, creating with the new kits!
I'm back again with another beautiful desktop freebie for you.  This week's freebie was created by Rain (RainK) using Studio Tangie goodies found in her digital  shop.
Click on image to download full size desktop.
Please feel free to pin this on Pinterest.
Credits:
Wonderland overlay, Vintage Lullaby, Midnight Dreams, Field Notes:  Spring, Font:  MaryAnn
I hope you enjoy this super fun freebie.  See you back here next Tuesday.
I'm back again with another beautiful desktop freebie for you.  This week's freebie was created by Heather Sullivan (sparklyduck75) using Studio Tangie goodies found in her digital  shop.  Hope you enjoy it : )

Click image to download full size desktop. Please feel free to pin this on Pinterest.
Credits: Wishing and Waiting, A Midsummer Night's Dream, Splatter Graffiti-Bloom, Gypsy Call
I hope you enjoy this super fun freebie.  See you back here next Tuesday.
Hello everyone! I thought I'd drop by and show a couple pictures of the studio and how it's going! If you' were a sponsor/backer of the Studio don't forget to check the backer's only blog (you can find the link in the backer's only Kickstarter updates)! We've gotten so much done but there is still so far to go! We are excited about our progress though and would love to show it off!
Hey everyone.  Welcome to another week of amazing highlights from the Art Journal Caravan.  Every week I do this I'm reminded how fortunate I am to be a part of all of this.  I'm seriously surrounded by some of the most amazing talent in digi land (and so are you)!  Are you ready to see what kind of amazing stuff I have to show you this week?  The wait is over.
Here are my picks for week 15:
africa3 by LyndaROzzauto
LOVE this one.  I like the grungy background with the Doc collaged on.

Anything is possible by rarou47
WOWOW!!!  What an encouraging sentiment.

Letter to Myself – 2013 by Lib_Grrl
I'm always excited to see people doing their letters to self.

Wk. 15: I Am a Butterfly by kygirl
Gorgeousness!  That's all I have to say about this one.

one self by Mgiaimo
I like the map with this numbers on it and the word strips.

africa by ulla420
I thought this was a great art journal page.  I like the work on the background and the added vintage tags.

Thanks for joining me for another week of highlights.  Don't forget to check in next Sunday for more great inspiration.  Until then… I'll see ya on the trail.
If Every Art Journaler Read the Same Book | A Free Art Journaling Book Club | Studio Tangie

for digital, hybrid, mixed media, art journalers of all sorts!!!!
A Ten Week Book Club with FREE Online Inspiration, Prompts, and Tutorials for Art Journaling the Book
Led by Julie Ann Shahin – Social Media Creative Team Member for Studio Tangie,
with support from the Studio Tangie Creative Team including
ms. bailey, RainK, msmauk, and tina319

FREE Book Discussions, Chats, and Gallery at Connect: The Social Community for Scrapbookgraphics
****Announcing Our First Book:*********
Fabulous Friendship Festival: Loving Wildly, Learning Deeply, Living Fully With Our Friends
by Sark
More shopping sites for the book
Schedule:
Saturday, February 2: Introduction and Prompt to Create Journal Cover/Title Page (in case your book is on order you will be ok!)
Saturday, February 9: Our First Set of Prompts, Inspiration, and Discussion!
The Book Club lasts for 10 weeks every Saturday.
TELL YOUR FRIENDS!
Who's In?
Art Journaling 102:
Technique Feature -
Misty Overlays
I'm very pleased to share with you today an Art Journaling Technique Feature demonstrating Studio Tangie products: Misty Overlays. Heather, Deb, Rain, and I have created examples using Misty Overlays for you.
They look like alcohol ink sprays! Tangie provides .png files that you just drag onto your page. So fast and easy, and no mess!
Inspiration for Misty Overlays by the Studio Tangie Creative Team
Heather
Had so much fun watching how the overlays played effortlessly off of each other, I didn't want to pile too much stuff in their way.
MATERIALS BY TANGIE BAXTER: Misty Ink Overlays #5 and #6; AJC 2012 Parcel #37; AJC 2011 Parcel #33; Bestiary of Beasties; and Thinking of Thee.
Font: Sweetly Broken.
Deb aka pennyshilling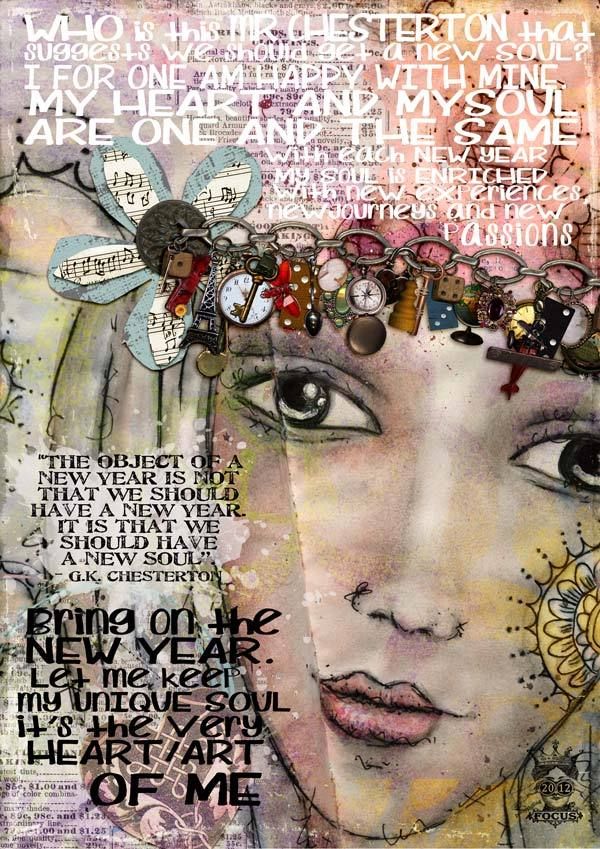 Supplies used
My own illustrations from one of my art journals as starting point.
All Digital product from Tangie Baxter with some recolouring and blending.
tangie_AJC12_parcel 33 ~ frame
tangie_ AJC12_parcel 47~ misty overlay
tangie_Broken Doll ~ elements, paper
tangie_ Serendipitous ~ elements, paint splatter
tangie_ AJF mock turtle font
Font ~ Artist Stamp
Rain
Credits:
Seaside Art Dolls
AJC parcel 31
AJC 12 Caravan
Julie Ann
I thought for a New Year's theme to keep this page simple, clean, and fresh.
Credits: TANGIE BAXTER
Overlays: Misty Overlays 3, Misty Overlays 4
Background Paper: Gee That's Swell
Silhouette: Keep Moving Forward
Font: Tangie AJF elephants
Now it's your turn! Let's see your misty overlay pages!
Upload your page to your blog or favorite gallery. Link it up (copy and paste the url) in the comments of this blog post.
Julie Ann Shahin is a New York-based art journaler, scrapbooker, mixed media craftster who specializes in hybrid and altered art techniques. She will be blogging regularly for tangiebaxter.com on Wednesdays and Saturdays. You may contact Julie Ann directly at julieann dot shahin at gmail dot com
If you liked this post, you'll also love: